Do You and Your Dog Practice Good Etiquette?
"Oh look at the cute dog! Oh no! Look what he's doing!"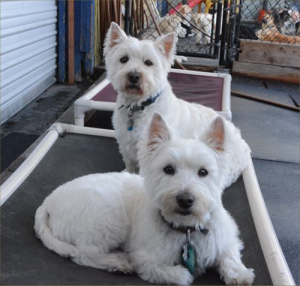 In a way, dogs are like children, they are wonderful, but they can be offensive if they're not taught proper etiquette (how to act and react when out in public)…they can be so offensive that people want to turn away when they see you coming. This is not the reaction you want to create.
Your dog doesn't come already trained. As your dog's human, it's up to you to teach them what is acceptable and what is not. Your dog will have two types of relationships, with other dogs and animals and with people. Start teaching them proper etiquette when they're young, so when they grow out of the cute puppy stage, people will still like to be around them.
Suggestions for teaching your dog good manners:
A good place to begin is to teach the basic commands that will enable you to take your dog out in public and maintain control as well as help you keep your dog safe:
Always have your dog leashed when out for a walk or anywhere in public. A leash will not only help keep your pet safe, but help people you come into contact with feel more comfortable – not everyone is a dog lover and many are afraid of dogs.
Teach your dog not to bark when it's unnecessary. There is nothing more annoying than an inconsiderate pet owner who allows their dog to bark constantly and inappropriately. Notice, that I put responsibility on the owner.
Don't show up at someone's home with your dog as an uninvited guest.
Teach your dog appropriate ways to greet people and other dogs. It is definitely not okay for your pup to jump up on someone who you have just come into contact with. Many people just smile and shrug it off saying "Oh, she's so happy to see you." But that is unacceptable, your dog's reputation will be affected negatively, and it won't be her fault, because you failed to teach correct behavior.
Wait to take our dog to an off leash park until you are sure how he will react around other dogs. Puppy socialization classes  are a great way to prepare your dog in how to act when out in public.
Be sure your dog's immunizations are current…it's best for your dog's health, and it's a good safety precaution.
Always be prepared with bags to "scoop the poop"! There's nothing more irritating than finding (with your feet) a "gift" let behind by an inconsiderate dog owner.
Your dog is your beloved pet, others can enjoy him too with a little effort in training on your part. Enrolling fido in a few behavior classes might be a great way to get him ready for "prime time"!