Does Your Dog Bark Too Much?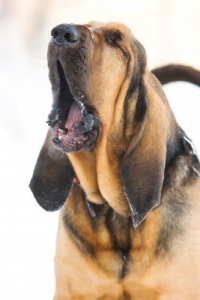 It never fails…if the doorbell rings, if a neighbor walks down the street, if you let him/her outside, if you leave the house, and many other "ifs" too numerous to mention…the dog starts barking.
Noisy dogs have started many neighborhood disputes that cause a lot of hard feelings.
In fact, many towns have created ordinances against offensive dogs whose barking becomes a nuisance. In Everett, WA, if there is a noisy dog in the neighborhood, you can call Animal Control who will have an officer contact the dog's owner with a warning.
Barking is a form of canine communication
We can't, nor should we try to stop our dogs from barking all the time…barking is their way of letting you know how they feel and what's going on:
Your dog could be warning you
Showing fear
Excitement
They could feel threatened
Fearful
Hungry
Happy
Discomfort
They may need to go outside
These are normal behaviors. It's when the barking becomes excessive and out of control that it's time to understand why it's happening and then help your dog make behavioral changes.
When your dog barks too much…
The main thing you need to remember is to remain calm when you're working with your dog. If you are loud and agitated, it will send mixed signals to your dog…you want him to be calm, but you're acting just the opposite.
Maybe your dog isn't getting enough exercise and activity so he barks because of built up energy.
Learn what events trigger your dog's excessive barking and try avoiding them. Example: If the arrival of the mailman triggers your dog's barking, try to keep the dog in another part of the house during that time of day.
Leaving your dog outside alone for extended periods of time might be the cause of excess barking. Dogs, being the social creatures they are, need socialization and contact.
Maybe your dog gets bored, are you playing with him enough? Are you spending enough time with him? Dogs aren't just possessions, they are companions.
Does your dog have separation anxiety? This is probably one of the biggest factors in dogs who bark too much…they are lonely and stressed that they are being left alone for long periods of time.
Separation anxiety doesn't have to be a problem for your dog…
We at 
BowWow Fun Towne
 are experts in dog day care. We are dedicated to assisting you and providing the best care for your dog while you're away.
What we offer:
100% cageless environment. When your dog is with us they will enjoy the comforts of both indoor and outdoor fun.
Supervised play
Time for rest
The opportunity to socialize (and learn socializing skills) with other dogs and interact with humans.
Special attention to dogs who have separation anxiety.
Lunch (if asked for) and necessary medications served.
Why would you leave your dog home alone, when there's so much he can do at BowWow Fun Towne. We'll love your dog almost as much as you do.