Do You Leave Your Dog Home Alone All Day?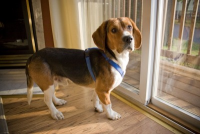 Is it necessary for you to be gone for several hours a day and leave your dog home alone? If you're like other dog owners, you're not happy with this situation and would like an alternative.
Have you ever wondered what goes on at home while you're away? Do you think your dog just lays around, chews on his "tug" toy and patiently awaits your return? That's probably not what's happening!
Boredom and Anxiety
When dogs are left for long periods of time, they often experience either boredom, anxiety or both. Unless you have left some kind of video camera running, you may never know exactly what they do.
For many of them, these are typical things that happen:
They may chew on things and destroy them…keep your good leather shoes or handbags put away.
Whether they are kept inside or out, they may howl or bark incessantly…just ask your neighbors.
It's not uncommon for even a well-trained dog to relieve herself inside.
Your dog can become overly stressed and overexcited, especially when you return.
Dogs are very social
Once you take on pet ownership, especially a dog, their well being and comfort becomes your responsibility.
We at BowWow Fun Towne are experts in dog day care. We are dedicated to assisting you provide the best care for your dog while you're away.
What we offer:
100% cageless environment. When your dog is with us they will enjoy the comforts of both indoor and outdoor fun.
Supervised play
Time for rest
The opportunity to socialize (and learn socializing skills) with other dogs and interact with humans.
Special attention to dogs who have separation anxiety.
Lunch (if asked for) and necessary medications served.
Why would you leave your dog home alone, when there's so much he can do at BowWow Fun Towne. We'll love your dog almost as much as you do.
Enjoy this brief video of a dog left home alone, then call us to make a reservation for your dog to have a wonderful day.