How to Choose the Right Dog Collar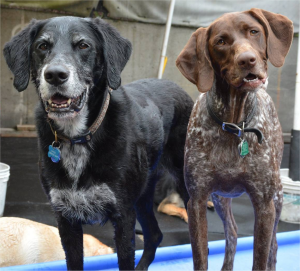 My last post was about Mastering the Art of Walking Your Dog, today, I'll talk about one of the key components to having a good walk with your dog…making sure you have the right collar for the right dog – no dog should be without one. Without a collar, where would you hang your dog's licence and ID tags?
There are several collars to choose from, how do you know which type will work best for your pup? Things you'll need to consider are:
The breed and size of your dog
Your dog's temperament and disposition
Where you dog is in the training process
Most dogs are fine with a traditional flat collar of leather or nylon. The important thing here is to make sure it fits him/her properly. It should be large enough not to choke her, but small enough that it won't come off. Typically, a good rule of thumb (no pun intended) is that you should be able to slip 2 fingers under the collar, no more, no less. This is especially important for collars on puppies. Puppies grow at such as amazing rate, especially in the first year, they could grow out of their collar before you realize it and it would not only become uncomfortable but possibly start choking them and restrict breathing.
The Right Collar for the Right Dog…
Great for control is the Halter Collar. This collar resembles a horse's halter, with a band that goes around the back of the head and one that goes around the nose. Often called a Gentle Leader (emphasis on gentle), it may look like a muzzle to people passing by, but it's intention is to be able to gently control a large or strong dog from "taking you for a walk".
Dogs who have upper respiratory or throat issues do very well wearing a Harness. Where a traditional collar could put pressure on the throat, wearing a harness will avoid the pressure and discomfort. Also, dogs with pushed in faces (short noses) will benefit from wearing a harness as will dogs with long thin necks.
Another collar that is great for dogs with slender necks is the Martingale. Dogs with thin necks can easily slide out of traditional collars, and this collar will tighten slightly to adjust to the size of the dog's neck which prevents them from getting free.
Collars to Avoid:
The AKC recommends avoiding the use of Choke Collars, which are not safe in the hands of someone who is untrained in the proper use of them, and they should never be used for a short nosed dog.
Used to correct a dog's behavior, the Prong/Pinch Collar is also not recommended by the AKC. This collar, which has been used for "real" pullers, has blunt prongs pointing inward, and you can imagine the effect on the dog as it pulls forward. In the hands of someone untrained in its use, this collar could do damage to your dog.
For all your doggie daycare needs, Contact BowWow Fun Towne, you'll find plenty of great activity and exercise here to help keep your dog happy while you're away.