How to Care For Your Dog in the Winter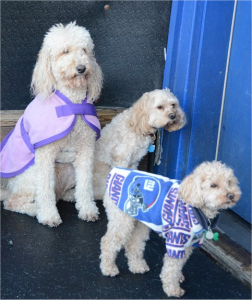 The last few days here in the Seattle, WA area have been extremely cold…it looks like winter weather is upon us and we can expect more cold temperatures in the weeks to come.
This time of year people think about protecting prized garden plants, their outdoor pipes and pulling out their own coats, hats and gloves. Another area of concern should be caring for their dogs during winter weather.
But they are dogs, animals, they should be able to go outside during the colder months without you worrying about them…right? Not necessarily.
First of all, there are some dogs you should be more protective of:
Older dogs
Puppies
Short haired dogs
Dogs who are ill or may have arthritis
Dogs who aren't "outside" dogs
Has your dog ever been outside and you've watched him/her begin to shiver almost to the point of being out of control?  Has their breathing become shallow? Do they seem lethargic and weak? Did you ever consider the fact that dogs can get hypothermia as well as humans? These could be the first symptoms that there might be a problem.
I'm not saying you should run right out and by a doggie coat, although it wouldn't hurt, but I am saying that your dog needs a little bit extra care and consideration during the winter months.
Winter Safety Tips for Your Dog
Your dog's paws come into contact with everything, from icy surfaces to chemically treated surfaces. Caring for their paws is of utmost importance.
If you usually keep your dog's coat trimmed short, winter is a good time to let it grow a little longer for warmth. Short haired dogs are definitely good candidates for wearing sweaters or coats that are not only warm, but water-resistant.
Keep your cold weather outings briefer than normal. Not only can dogs get hypothermia, but they can get frostbite also.
If yours is an outdoor dog, it's preferable that he is able to come in during the winter months, but if that's not possible, make sure their bedding is kept dry.
It's a good idea to wipe off your dog's paws when they come inside to help eliminate any chemicals they might have stepped in such as anti-freeze and ice melting products or rock salt.
Don't cut back on your dog's water supply, they can become dehydrated during the winter as well as in the summer. Try to avoid letting your dog eat the snow, there could be hidden objects or chemicals hidden in it.
If you return from a "wet" walk or outing, be sure to towel dry your dog to keep them from chilling and possibly becoming ill.
A good rule of thumb is: If you're feeling the cold, your dog is most likely feeling it too. Here's to a warm and safe winter for you and your "best friend".
At BowWow Fun Towne, we're always watching out for the safety and comfort of your dog.
If it's not possible to take your dog with you…Give us a Call!
BowWow Fun Towne is a dog daycare that takes the health and well-being of your dog seriously. We provide all types of exercise from playing with friends to swimming. We are experts at what we do and are dedicated to assisting you and providing the best care for your dog while you're away.