Why Is It Important to License Your Dog?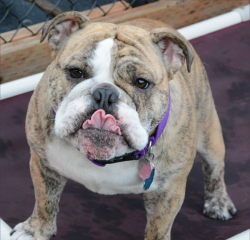 You've just added a new dog to your family…you've paid the purchase price, you've paid the vet to check him/her out physically and give the appropriate shots, you've bought dog food, dog toys, a dog bed, dog grooming supplies. That's all…right?
Wrong, now it's time to pay your local city government to get your dog licensed.
Is there really a point to that?
The point of getting your dog licensed.
Believe it or not, besides the fact that it's the law, there are some important reasons why licensing your dog is a good idea:
It can help guard against rabies outbreaks, because before your dog can be issued a license, you must produce proof, a certificate of vaccination, which is a requirement for all dogs who have reached the age of four months.
A license can save you money…if your dog is picked up without one, you could be fined a substantial amount.
Probably the #1 reason is because you love your dog! In the event that he/she wanders off and gets lost or goes missing, the license will increase your chances of getting him back. Dog tags have identifying numbers on them that can be looked up and help "home" be located.

On the flip side of that, dogs who are found and are not licensed are typically taken to a shelter, where they are held for only a few days, at which point if they are not claimed, they can be euthanized.

Most animal day care and boarding facilities won't accept a dog unless it's licensed.
Another benefit of licensing your dog…
Licensing fees help fund local animal shelters, where the money helps not only feed and house animals who have gone astray, but helps provide the proper medical attention to animals waiting to go home or be adopted.
Typically licenses must be renewed annually and your dog needs to be wearing it at all times.
Licensing your dog is not really that expensive, unless yours hasn't been spayed or neutered, then the cost can go up. It's a small price to pay to be a legally compliant dog owner and to have the peace of mind that you might be helping your dog "find" his way home in the event you are separated.
At BowWow Fun Towne, we are experts in dog day care. We are dedicated to assisting you and providing the best care for your dog while you're away.
Give us a call