How Will You Care For Your Senior Dog?
" It's wonderful to know you're aging, because that means you're still on the planet!" – Goldie Hawn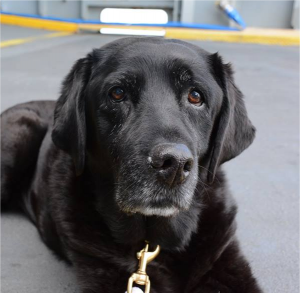 It happens for dogs just as it happens for humans…time marches on, we age, we become senior citizens. And again, like humans, senior dogs may need special understanding and care. For dog owners, this can be a challenging time, but it can also be a very special time to give your "best friend" a little extra care and attention. Remember:
Aging isn't for sissies, it's not always easy!"
When is a dog considered a senior?
There is no age cut off to becoming a senior dog…each dog is different, not only depending on his/her genetics, but also depending on the size and the breed of the dog.
Smaller dogs have a tendency to live longer – a small dog may not be considered senior until between 10 – 13 years old
While larger dogs typically have a shorter lifespan – some could be considered senior by the age of 5.
Signs your dog is aging and what you can do…
As your dog ages, there will be certain things they will do that they didn't do before, or things they did before that they don't do now, it's all part of the process. But it's important to be aware of what to look for so you can help your dog however possible to keep her feeling the best she can.
Weight gain, which means her metabolism is slowing down or she could be experiencing thyroid issues.

Obviously you should check with your vet to see if there is a medical issue, but one thing you can do is either to feed her less or switch to a lower calorie food, one intended for older dogs.

Slowing down, could also be a sign of thyroid issues or arthritis…a trip to the vet is the best idea.
Being non-responsive by "seeming" to ignore your commands or not coming when you call or return home. Although it may feel like she is just being old and stubborn, that is probably not the case. More than likely there could be a loss of hearing. It's during times like this that it's great to use hand signals that she recognizes and understands.
Difficulty getting up or difficulty staying up on her feet could be an indication that she is having problems with her joints. She should be examined by your vet.
If you notice cloudiness in her eyes, she could be developing cataracts…take her to the vet.
The need to go potty more frequently is a problem that is difficult for your dog to control. You will need to make sure there are more potty breaks, similar to when she was just a puppy. If you're not going to be home for a few hours, it would be wise to train and provide your dog with potty pads. If it becomes a real problem, you should take her to the vet to be checked out, and you could have her start wearing waterproof panties to prevent accidents.
If you have questions about any other signs or symptoms, make an appointment with your vet right away.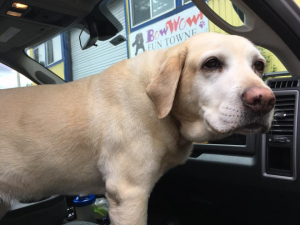 If you are lucky enough to have raised your dog from puppy to senior, you will want to keep her as healthy, happy and comfortable as you can…make sure she gets regular exercise (maybe a little less than before, but regular), a healthy diet, trips to the vet about twice a year, and lots of love.
At BowWow Fun Towne, we care about your dog's health, we pay attention to symptoms that may be out of the ordinary, and we enjoy having your senior dogs come for a visit.. For all your doggie daycare needs, Contact BowWow Fun Towne, you'll find plenty of great activity and exercise here to help keep your dog happy.