How Can Thanksgiving be Safer for Your Dog?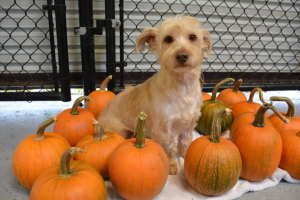 Well it's that time of year again, fun, food and feasts, so I thought it would be a good idea to revisit how you can keep your dog safe during the Thanksgiving Day celebrations of family time, turkey and pumpkin pie. It's definitely not a great celebration if you have to spend the day at the vet's! Although your dog isn't aware of the upcoming festivities yet, he/she will quickly get on board once those wonderful smells of turkey dinner begin to fill the house.
Many people like to include their dog in the holiday, in fact, some feel guilty if they don't…
It's probably better to feel a little bit guilty than to have take your dog to the vet for food-related problems. Did you know that during the Thanksgiving weekend, the majority of incidents of pets being rushed to the vet is caused by food.
Understanding Thanksgiving Day Dangers:
Many of the foods we eat at Thanksgiving are high in fat…foods such as turkey skin, mashed potatoes and gravy and pumpkin pie…all the things we love to eat. But, eating foods high in fat content is not healthy and is sometimes dangerous for your best friend as it can cause pancreatitis which can be not only painful but can also be life-threatening.
 Another danger of giving turkey to your dog is the possibility of a bone getting caught in their throat  or passing through the throat and then perforating their intestines. Turkey bones splinter easily…keep them away from your pet.
Ingredients in the stuffing are another hazard; sage can cause terrible stomach pains and onions have been linked to anemia.
Tips to protect your dog:
Never leave your turkey, cooked or uncooked, where it is accessible for canine consumption.
Have plenty of canine friendly treats available to satisfy your pup. (That is a much safer way to celebrate.)
Make sure your guests know not to feed your dog from the table (too many people cannot resist the temptation).

Even safer yet, set your dog up in another room while you're eating. Make sure he has his own food and plenty of water, a couple of his favorite treats and favorite toy.
Putting your dog in another room will also make him more comfortable if there is a lot of activity and chaos going on. Your dog's stress could result in uncommon aggressive behavior.

Make sure leftovers and garbage are put away and are not accessible.
Keep alcoholic beverages out of reach…they can affect your dog's liver and kidneys.
Here is a great list of foods you should avoid giving your dog all year round.
If you work during the day or you're traveling, call now to reserve a fun and friendly place for your dog to stay…
For all your doggie daycare needs, Contact BowWow Fun Towne, you'll find plenty of great activity, appropriate toys, and exercise here to help keep your dog happy while you're away.
**originally published 11/5/13