About Us…
Mary Mark, UW-AAB, KPA-CTP, CPDT-KA owner/professional dog trainer/professional groomer
Mary is the owner of BowWow Fun Towne. After retiring from United States Navy with 20 years, she decided to follow her passion and love for animals. Since she has been in the Pacific Northwest since 1996, this was her home. Mary started her own pet sitting business called Walkin' The Dogs & Pet Services in May 2006. She wanted to continue her passion so she took over ownership of BowWow Fun Towne in February 2008. She wanted a facility that provided all of your pet's needs under one roof. In order to fulfill this desire, she went to grooming school and received her certificate as a professional pet groomer. Mary's family consists of a daughter, husband and a dog.
Special Qualification: Certified Pet First Aid and Human CPR
Volunteer: Homeward Pet
_________________________________
Beatrice– Day Care Specialist
Meeting all the dogs is my favorite part while working at BowWow Fun Towne. Prior to working at Bowwow Fun Towne, I did pet sitting and dog walking for friends and family. I have training my dog Luna who is a Catahoula. My other dog is a terrier mix name Pete. We also have two cats name Snickers and Mittens. When I am not working, I volunteer with two organizations. My interest is photography, music and old cars. Pete has taught me patience and unconditional love. My goals are to travel and retune to college.
_________________________________
Chris – Overnight Attendant
I have worked in the dog day care field for over 5 years. At BowWow Fun Towne, my main responsibility is to provide care for your overnight guest. Currently I live with a cat named Shinigan but my mom owns many Pugs that I visit all the time. My favorite part about working here is meeting new doggy friends and learning all about their quirks. When I am not working, I play a lot of video games and I like build or working on gaming PC's. I also like to cook and hang out with animals. Dogs have taught me patience, perspective and persistence. My goal is to make as many friends as possible (humans and animals) and to live a long, happy life!
_________________________________
Ella – Day Care Specialist
Our family has a German Shorthair Pointer name Greta. Since Greta comes to BowWow Fun Towne, I thought I would like to work there. My favorite part is watching, interacting and the connections I have with each of the pups. I also have learn a lot about the dogs interactions with each other and their personalities are amazing. My dogs have taught me to be patient and be calm and understand that being nice will avoid conflict. Some of my hobbies are running and being active, doing a lot of homework. My interest are cheer and watching Netflix. My goals are to stay here working with these amazing dogs until I am able to understand and connect with every dog.
_________________________________
Kaleigh– Day Care Specialist
I'm a recently new mom of a black standard Poodle name Tito. Prior to working at BowWow Fun Towne, I worked a large day care and boarding facility south of Seattle.
_________________________________
Michael – Day Care Specialist
Currently, I have a Puggle name Douglas. My experience working with dogs was raising our family Labradors, Max and Moose. I have also dog sat many time for family and friends. My dogs have taught me that life is short so you should live it well. My favorite part of about working at BowWow Fun Towne is all the cute dogs. I get to meet and spend my day with them. During my spare time, I watch Netflix, play video games and programming. Since computer science and programming is my interest, my goal is to be a programmer for a video game company. I would like to own another yellow Lab or a German Shepherd.
_________________________________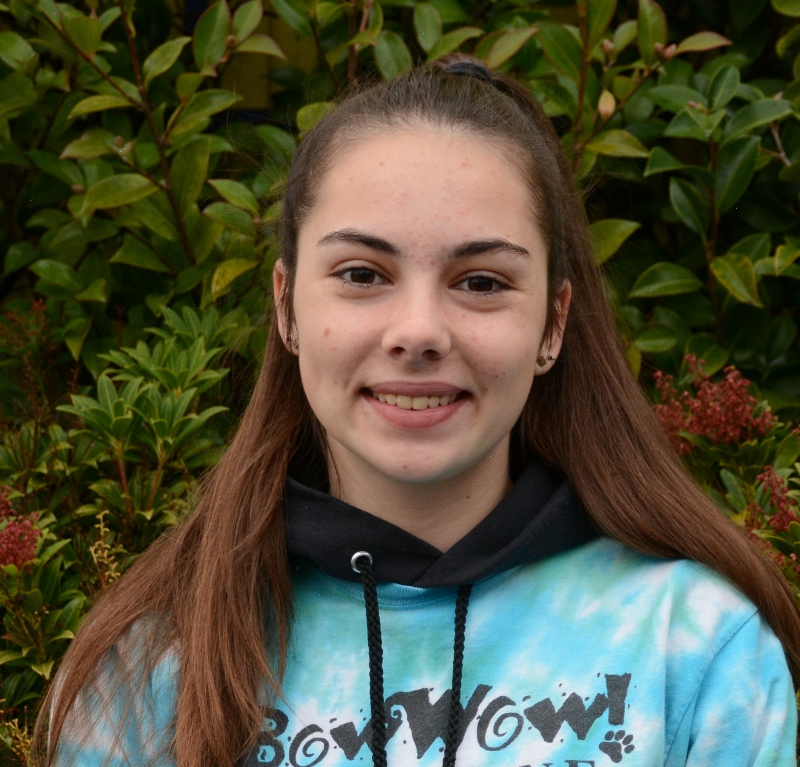 Morgan– Day Care Specialist
I currently have a chocolate Labe named Bronco and a cat name Sunday. Growing up I live with a Chesapeake Bay Retriver named Callie and a Pitty named Kane. Prior to working at BowWow Fun Towne, I have done a lot of dog walking/ sitting and fostering dogs. My favorite part about working at BowWow Fun Towne is meeting and being with the dogs is very rewarding. When I am not at work, I love to hike & camp, run, ceramics and spending time with my pets, friends and family. My dogs have taught me loyalty and loving unconditionally. My goal is to go to college to be a veterinarian.
_________________________________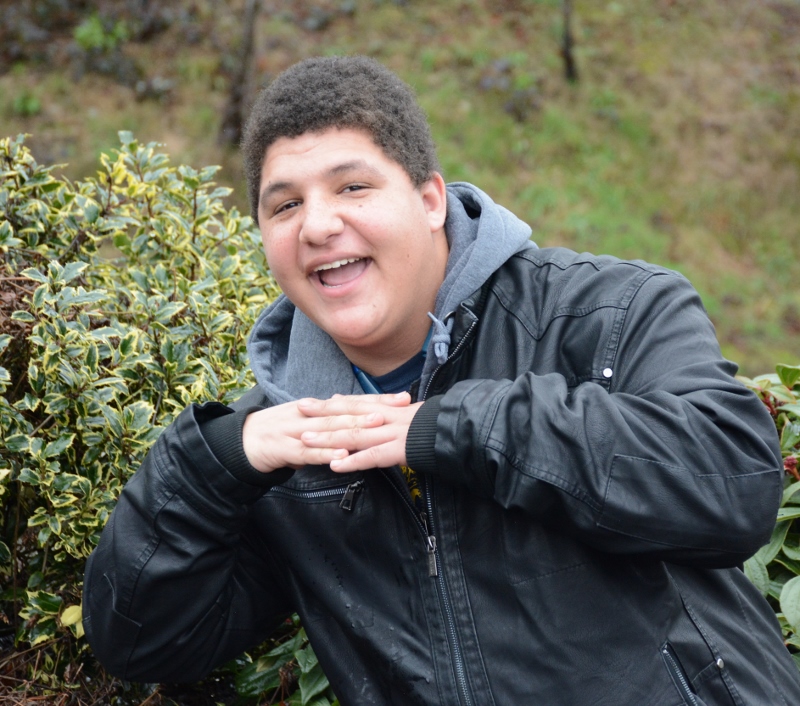 Ryan– Day Care Specialist
I love dogs. Only experience I had with dogs was when I trained my dog, Misty. But since my employment, I have learned a lot. Petting dogs and smothered them with love is my favorite part about working at BowWow Fun Towne. My dog, Misty, has showed me that their love is truly unconditional. She is always there when I'm sad to cheer me and she is there to play when I'm happy. She helped me understand why dogs are considered man's best friend. When I am not working, I like to read DC comic books and watch horror movies. One day I want to finish my college education to be a Politician or a History teacher.
_________________________________
Sam – Day Care Specialist
I have an Australian Kelpie who is currently lives back home in California with my parents. I moved to Seattle from San Francisco in January. My professional experience working with dogs started when I worked at a chain dog hotel "Wag" for a year in San Francisco. My favorite part about working at BowWow is building relationship with each and every dog. I also enjoy giving baths, making sure they are clean prior to going home. My hobbies include hiking, going to the beach and eating. My interests are nursing and war correspondents. My dog has taught me to enjoy nature and has help me to understand dogs better at work. My goal here is to learn each dog's personality and do what it takes to make your furry family member have a blast.
Special Qualification: Certified Pet First Aid
_________________________________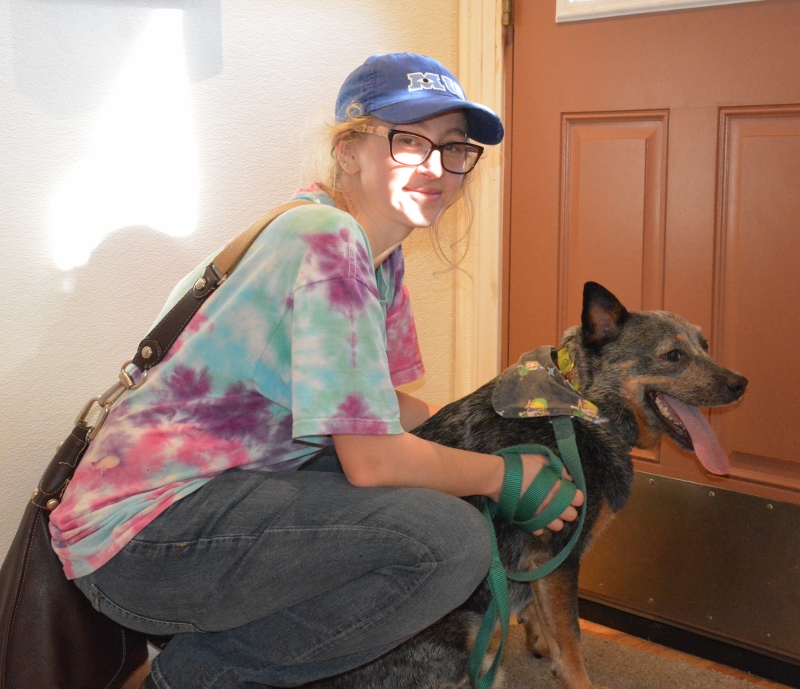 Sophie – Day Care Specialist
My family always had cat. In 2006, we got our first Cattle dog. Currently I live with Kitty, 11 year old cat, and Ziggy, 2 ½ year old Cattle dog. Prior to working at BowWow Fun Towne, I've trained and competed in agility with my dog, Ziggy. I have done day care and overnights for my friends and family. The best part working at BowWow is getting to know all the different dog's personality. My dog has taught me to be patience with others, working to achieve goals (such as training and agility) and the importance of socializing with other dogs. Working with your pup has highlighted how important patience and persistence are. In my spare time, I like making jewelry and making road trips. My goal is to have 4 dogs under one roof.
_________________________________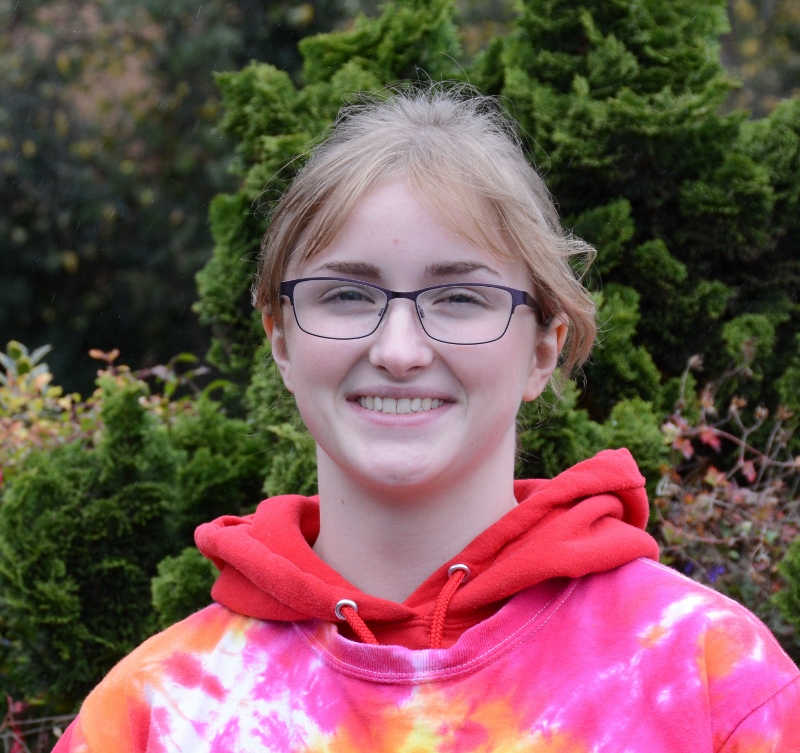 Zoe – Day Care Specialist
My family and I socialize and train dogs for Guide Dogs for the Blind through Guide Pups Seattle. I have lived all of my life with dogs and love watching with them. Currently I have a Tobiko who ended up with a career change from "Guild Dogs for the Blind" program. My favorite part of working at BWFT is meeting new dogs every day and building up their current skills. Besides hanging out with dogs, I play the bassoon and I'm on a swim team. Tobiko has taught me to enjoy small things in life. Every time we taker her leash off the hook she gets "happy feet" and dances around us waiting to go on a walk. She has taught me to look forward to small things such as walks. My goal is continue my education to major in Forensic Psychology next year and work for the FBI as a Behavioral Analyst.