About Us…

Mary Mark, owner/professional groomer
Mary is the owner of BowWow Fun Towne. After retiring from United States Navy with 20 years, she decided to follow her passion and love for animals. Since she has been in the Pacific Northwest since 1996, this was her home. Mary started her own pet sitting business called Walkin' The Dogs & Pet Services in May 2006. She wanted to continue her passion so she took over ownership of BowWow Fun Towne in February 2008. She wanted a facility that provided all of your pet's needs under one roof. In order to fulfill this desire, she went to grooming school and received her certificate as a professional pet groomer. Mary's family consists of a daughter, husband and a dog.
Special Qualification: Certified Pet First Aid and Human CPR
_________________________________
Alex – Day Care Specialist
I've had many dogs in my family over the years. Currently I have a black Lab mix, Zoey, who comes to day care. My favorite part of working at Bow Wow Fun Towne is understanding dog behavior, dog interaction and teaching them. In my spare time I play computer games and work with animals. Zoey has taught me to never get fixated on one thing and to never let anything get you down or stand in your way. My goals are to learn as much as I can about dog behavior.
_________________________________
Anne – Day Care Specialist
Hey! I am in college at Seattle University majoring in Biology, I'd like to work with wildlife in the future. I originally came to work at Bowwow Fun Towne in May of 2012 until September 2013. I started taking a bigger course load, and once I was able to lower my course load I returned to Bowwow in May 2015! I like to go on hikes and I spend a lot of time bird watching. I really enjoy watching birds and learning all the different things about them. I also spend a lot of time walking my golden retriever Charley! Thank you for sharing your furry family members with me, I love spending my mornings playing with your puppies!
Special Qualification: Certified Pet First Aid
_________________________________
Bryon – Playroom Supervisor
Hello. I have always loved animals and working with dogs. My family owns 4 dogs, 3 cats and 2 birds. In my free time, I play competitive mini golf and table tennis. I worked here for 2 years before I had to leave after a move, but I couldn't stay away and came back to BowWow Fun Towne in April 2015. Being the playroom supervisor is the perfect job for me because I get to lead this wonderful team. Thank you for trusting us with your furry friend.
Special Qualification: Certified Pet First Aid
_________________________________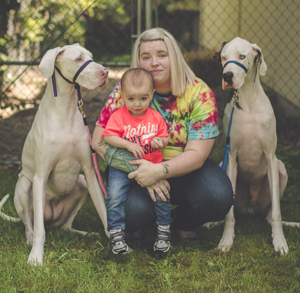 Cassie – Morning Supervisor
Hi there, my name is Cassie! I grew up in Edmonds and after graduating High School at Meadowdale.  I took a few years off before going to cosmetology school. But afterward I decided working with animals was actually what I wanted to do and I found myself at BowWow Fun Towne in January of 2012. I worked here until May 2013 when I left to have a baby! (I am so glad to be back now that he is older.) I currently have 2 great Danes, 3 cats, 2 snakes, and a turtle. I have (and currently do) foster for Dane Outreach, a great dane rescue since May of 2010, which is how I came to adopt my 2 babies. Delilah, who was born October of 2010, is completely deaf and partially blind. And Sampson, who was born May of 2013, is partially deaf. I spend all of my spare time with my son and my boyfriend, my family, and my dogs. I love the Seahawks, all things Harry Potter, and Netflix marathons. I can't wait to meet and play with your fur babies!
Special Qualification: Certified Pet First Aid
_________________________________
Meghan – Day Care Specialist
Hello fur parents! I grew up in Arizona. I moved to Washington as a stepping stone in my eventual move to Canada. I had an African grey parrot when I lived in Phoenix. My experience with dogs is various dog sitting and dog walking I've done. I love working at Bowwow Fun Towne because it's a great environment and I get to play with the best dogs. When I'm not at work I can be found watching cat videos or playing video games. Dogs have taught me patience and how to just be happy. My goal is to go to school to be a vet tech.
Special Qualification: Certified Pet First Aid
_________________________________
Oliver – Overnight Attendant
"Hey there! I was born and raised in Washington State, and graduated from Sammamish High School. I've been interested in working with animals, especially dogs, since I was young. I currently live with two great dogs, and enjoy working with yours at BowWow Fun Towne! I've learned a lot about dog behavior working here, and have only grown to love dogs even more. Outside of work, I like to hang out with my roommate's dogs, Sergeant Pepper and Cecilia. I also draw and play some video games in my free time."
Special Qualification: Certified Pet First Aid