Do's And Don'ts Of Leash Training Your Puppy
One of the most enjoyable things about having a puppy is being able to take him/her on walks. Whether they are just down the street or out in nature, you both can get a great deal of enjoyment and exercise from them…as long as your puppy is leash trained. If he's not, it's not as great as it could be.
Learning to walk properly on leash is one of the most valuable and rewarding skills your puppy can have, because it will improve his attentiveness to you, his responsiveness and his obedience.
To begin leash training, you should come prepared with calmness, patience, a collar, a leash, and lots of treats for good behavior.
Tips for leash training your puppy:
Before you begin the actual training, you'll need to purchase a proper collar and a leash for him to get used to.

Don't just put a collar around his neck and expect him to be comfortable with it, it could make him afraid or nervous.
Do let him sniff and get used to them, by maybe letting him drag them around the house while the lease and collar are attached together. Once the collar is on his neck, offer him a treat as a reward, and make sure it is fitting snugly but not tight.

Let the training begin….

Don't just head for the street.
Do begin your training at home where he is most comfortable and there are less distractions.
Don't assume that he knows what is expected once the leash is attached.
Do let him drag it around a little while it's attached to get used to it. Occasionally you can pick up the end of the leash and call his name. When he comes, be sure to reward him.

Keep your training sessions short.

Don't expect your pup to have the stamina and continued interest in the process as much as you do.
Do keep his interest by having short sessions and lots of treats. He will start to become excited when he sees the leash come out if his experiences are pleasant and tasty.

It's time to walk…

Don't let your pup have control of the leash.

Do

keep the leash short. This will keep young Fido at your side and unable to stray off in whatever direction he wants. It will also help him be close enough to you to learn what you want. As he begins to learn what is expected of him, you can give him a little bit more slack. Using a retractable leash is very convenient for this. Keeping your puppy close to you while in training is also safer for him.
Don't let Fido "walk you". Letting him pull on his leash is unacceptable. And you should never walk faster to try to keep up with him. This will only encourage pulling.
Do use a command to stop the pulling, such as "no pull", call the dog back to you, and you can stop and wait for the leash to go loose before continuing forward. When your pup complies….don't forget the reward!

If the puppy lays or sits down during your walk…

Don't yank on the leash and try to get him going again.
Do take a few steps forward, call his name and offer a treat. That should get him up and moving again. Keep in mind, your walk could have tired your pup out before you arrived back home, so this is another reason to keep training sessions short, and work up to longer walks.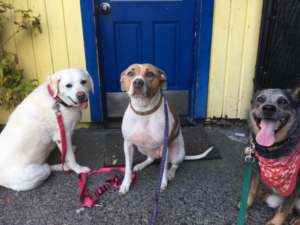 It won't be long before your pup will be waiting patiently by the door to go on a walk with you…
BowWow Fun Towne offers puppy socializing, in home training, and boarding options
We are experts in dog day care, we care about your dogs and take their health and well-being seriously. Our facility features a full size swimming pool for fun and exercise.