BowWow Fun Towne has gone to the dogs… We are a doggie daycare where a dog can be a dog.
At BowWow Fun Towne your dog will enjoy spending time with his/her friends, getting great exercise and being cared for by human friends who love dogs and enjoy interacting with them. While you're gone, you can rest assured that your dog is not only happy, but feels secure and is continuously receiving positive reinforcement and training throughout the entire day as we practice basic cues.
We believe in offering your pup positive reinforcement and enrichment in a fun learning environment, by rewarding him with a marker (clicker) and treats to reinforce appropriate behaviors. Your dog will love being with our employees, who take the time to stimulate him with interactive obedience cues and while offering plenty of opportunities to socialize with other pups. Doggie Daycare is not just about dog-sitting, we're here to support you in your efforts to have a well mannered pet!
We believe the goal for the best doggie daycare should be to provide both physically and mentally stimulating activities for your pup…to keep him active and learning throughout the day.
BowWow Fun Towne is your local neighborhood dog day care where your canine pals from many locations: Brier, Kenmore, Lake Forest Park, Bothell, Lake City, Kirkland, Mountlake Terrace, Shoreline, Edmonds, Lynnwood, Seattle & more! We provide the following services: dog day care, boarding, self wash, full service grooming, doggie swimming pool and a pet store — BowWow Fun Towne is a total care facility for your very best friend!
Welcome!
Read our latest News:
---
How Can You Keep Your Dog Safe at Halloween?
Once again it's time for spooks, ghouls and goblins, trick or treating, parties and candy…
There are many safety precautions that parents take with their kids at Halloween:
trick or treating in groups
trick or treating in neighborhoods you are comfortable with
safety checking the candy before consumption
some people have even gotten involved in a new tradition of either taking the kiddos to local businesses or participating in "trunk or treating"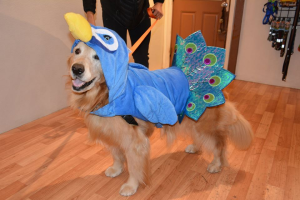 It's just as important to take safety measures with your dog at Halloween. Your dog can be fun to dress up, and take trick or treating with you… it just feels safer taking Fido with you (as long as your dog doesn't get nervous or over excited). But there are all kinds of goodies left lying around the house that aren't safe for your dog to eat, or because the noise and the "ghouls" make your pup nervous, there is a need to make sure he is safe and feels secure.
So, here are some safety tips for your dog at Halloween:
If your dog gets nervous with all the activities, provide him/her with a "safe " (quiet) place during the night's festivities.

Whether you're hosting a party or just answering the door bell, the noise of goblins yelling trick or treat, the noise of a party, or people in strange costumes can upset your dog.
Halloween, like New Year's Eve and the 4th of July, can be a very stressful night.

Protect your dog from decorations that could be dangerous to him/her or  are hazardous to your home. People are decorating for Halloween more now than ever before, and while it's fun and festive, if you have a dog, decorations could cause a problem.

You certainly don't want to leave Fido in a room with an accessible, burning candle.
Keep things like glow sticks, fake eyeballs, fake cobwebs up out of their reach…too many dogs may want to taste them and choke on them, or get poisoned.

Even if your dog is ok with the noise and the costumes, with the door opening and closing throughout the night, there is a chance he could escape, take off running and get lost…make sure he is wearing his ID. Better yet, if there's a chance of an escape, keep your dog home and safe in his "safe spot".
Kids aren't the only ones who like treats…your dog can sniff them out better than anyone.

Make sure your kids understand the dangers of letting their "stash" be discovered by their dog. Teach them that gum, chocolate and other sweets can be a real problem if their dog discovers them and decides to eat them. Give them a safe, high place where their treats can be stored safely.

Like to dress Fido in costume for Halloween?

Be aware of his reaction to the costume, he may not think it's as great as you do…don't force him to do something he is not comfortable with. Pay attention to his body language, such things as his ears folded down, a tucked tail or walking hunched over, are sure signs of your dog's disapproval.
Choose their costumes carefully…

Avoid masks, which not only will make them nervous, but can block their vision.

Make sure costumes don't restrict your dog's movements or breathing.

Have some of your dog's favorite treats on hand, they're good for him, and could come in handy if one of his friends comes trick or treating to your home.
For all your doggie daycare needs, Contact BowWow Fun Towne, you'll find plenty of great activities, appropriate toys, and exercise here to help keep your dog happy while you're away.